I am SO EXCITED to share that I'm an ambassador reppin' the Ogden Half Marathon (OM) in 2023!
And before you roll your eyes and say UGH YUCK RUNNING STUFF – give me a chance here.
I'm the biggest binge-watch Netflix while eating Nutella fan. I love a good nap. And there's nothing like being a curmudgeon about something that doesn't actually matter to escape the really heavy and terrifying stuff that actually matters. However, when it comes down to it, getting out and moving has always helped my mental health. Screw all that other stuff – weight, image, looks, etc. It's how I feel – and if I go without moving for a period of time I begin to feel like total and utter shit.
If you don't already know, I'm a big mental health advocate and realist. The worst (and most impactful) of it is that my beautiful late husband died by suicide. Prior to that, I struggled with my own form of a psychotic break in high school, ended up in the hospital, and quickly needed to find lifelong treatment that worked for me. Of course it initially came in the form of intensive therapy, meds, etc – but eventually I found my Type A ass needed to exert some energy to find solid peace and balance. I simply needed to find a way to move every day!
Years later, my mom introduced our family to the Ogden Marathon 5K. It was a beautiful Ogden spring day, we all wore our matching race shirts to the 5K, I wore makeup and did my hair (did it for the 'gram!), and we had iced tea and breakfast at Denny's after. We were so proud.
And mom was especially proud of accomplishing her first-ever 5K.
Ever since that day, I've been hooked on trying to stay moving in running event form. Especially with my family. And now, after a few half marathons and lots of 5Ks, I've mastered the art of walk-jogging until you see a photographer and then quickly trying to pick up the pace so you're photo-ready for a few hundred feet while attempting to look like a majestically-hot goddess. It's not an easy trick to learn, but somehow I've done it.
Besides all that, here are some of the other reasons I like to walk/jog/run and love the OM specifically:
Every mile, minute, and event matters. Whether you walked an hour-long 5K or sprinted a four hour marathon: however you participate is a big-ass deal and should be celebrated!
Sloan and I run and train together. While I will run alone on race day, training for the big day ends up creating a goal for Sloan and I. We put on our run outfits and spend quality time in the fresh air as we people watch – occasionally getting attacked by scary grasshoppers while Sloan tries to push me to move faster.
The GOAL Foundation is an awesome nonprofit. The GOAL foundation is just awesome, serving the Ogden community in big, impactful ways. Sloan's Scrunchies has partnered with them at a few events now, including last year's OM expo! The Ogden Marathon just happens to bring in runners from all over the nation because it's an awesome Boston Qualifier AND simply beautiful and scenic. Nature church to the max. (The Half Marathon starts up by Pineview Reservoir, runs through the Ogden Canyon, and ends in downtown Ogden.)
Memories made with fam: both dead and alive. I can tell you stories from every year (almost 10 now!) with my family who I have run-walked with. Stories of laughter, goofiness, tears, unfinished runs, and lots of post-event breakfasts and naps.
I run for Sloan.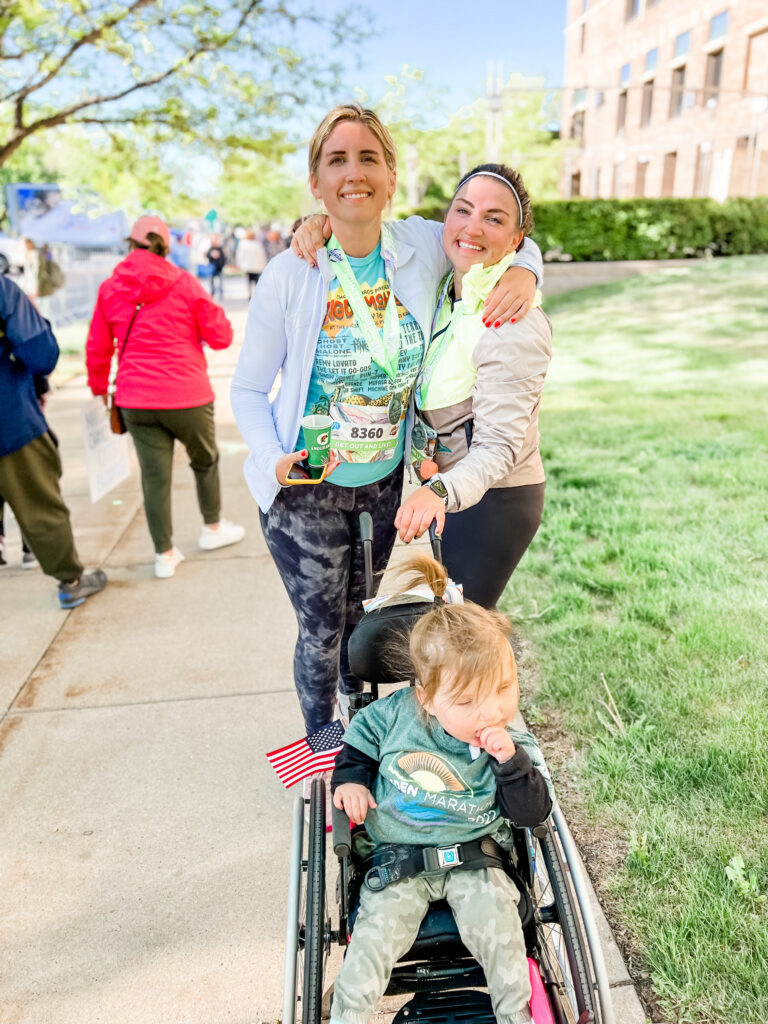 I run for Aaron.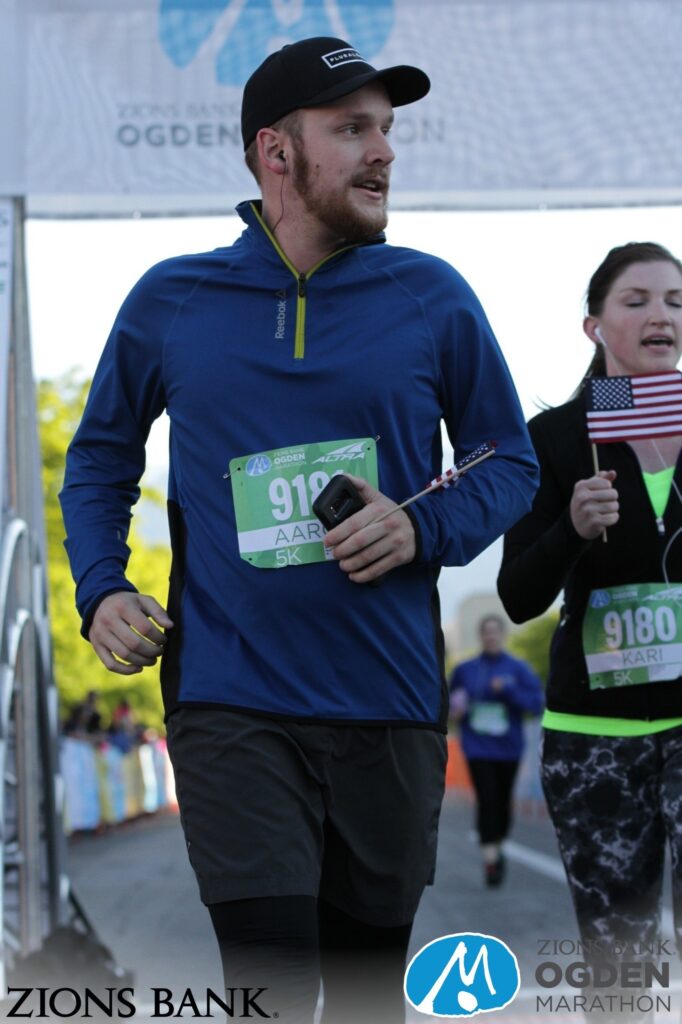 I run for my mom.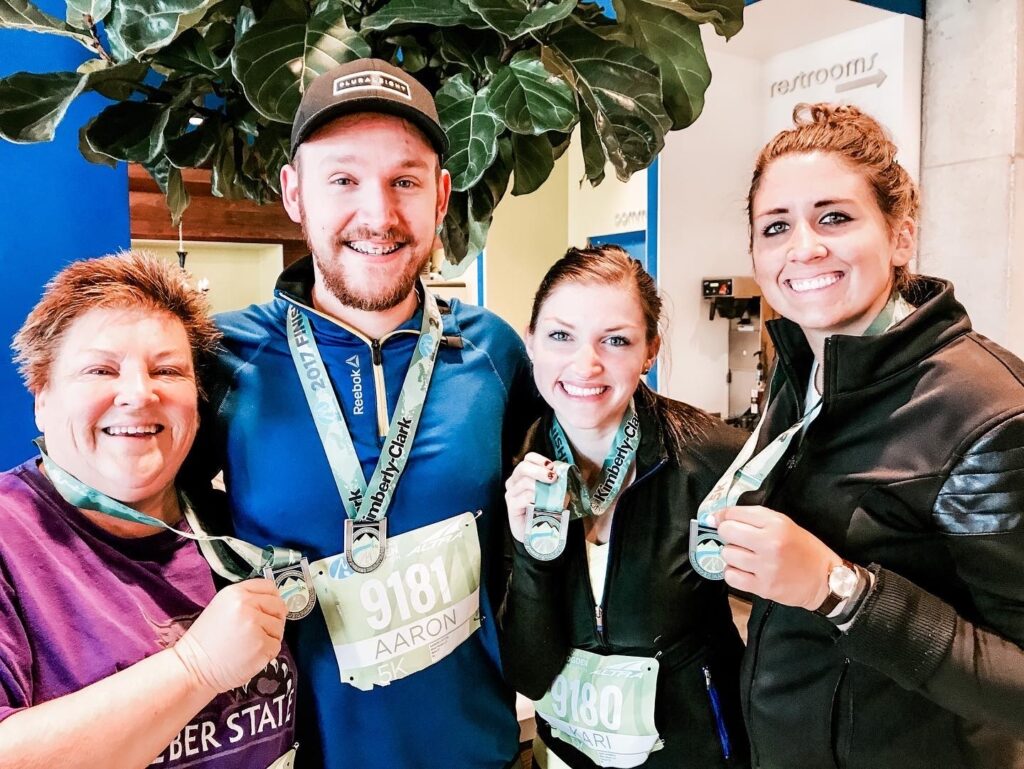 I run for me + my health.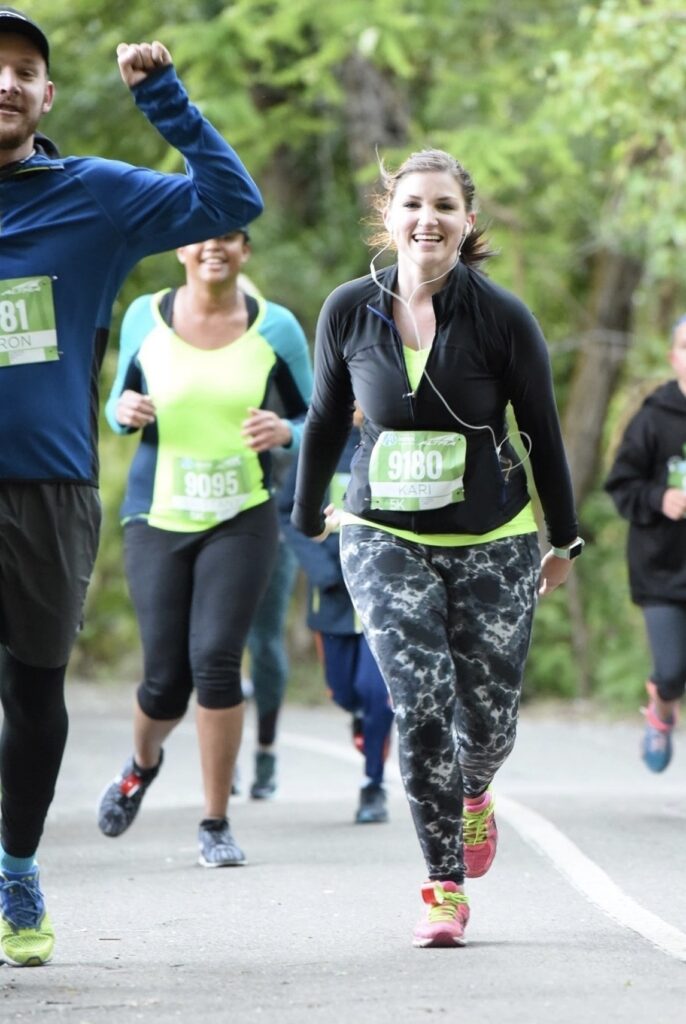 DISCOUNT CODES
$5 OFF THE 5K and 12K – SLOANSCRUNCHIES5K12K
$10 OFF THE HALF, FULL, or RELAY – SLOANSCRUNCHIES
$10 OFF WINTER TRAINING CIRCUT – SLOANSCRUNCHIES
Register HERE!
I'd love for you to join me in 2023. I'll be doing the half, but these codes also get you discounts on the amazing 5K, 12K, relay, full, etc.
There's plenty of time. Message me with questions!