Get out and move. Celebrate National Unicorn day. And give for giving's sake!
It's here. And we couldn't be more excited! From here on out we will be hosting an annual 5K for national unicorn day – which also happens to be Sloan's birthday. (No surprise there, eh?)
The best part? Every year we plan to give 100% of all donations to a family facing hospital life, medical complexities, or generally hard life stuff like Sloan and I have faced the past couple of years. We have a beautiful, strong, supportive community of people: and we believe that community and love should extend far beyond us.
I (Kari) have made the conscious decision to keep the recipient of donations private. After my life experiences, I've learned that giving for giving's sake – without thanks or expectation – is the most impactful, supportive kind of giving. We want to extend that giving beyond me, Sloan, and my family. We are aiming to give financial support to another family who might need a little boost every year. I promise our crew here at Sloan Strength will hustle to find the perfect family or person and your donations will be going to a good home that needs your love and hope for their future, family, and children. But we may not publicly share who the recipient is: simply out of respect for them, and to allow them to face their hard life stuff and feel our love and support, without needing to use their energy to say thanks.
If you're not able to donate: that's great too! The 5K is free (SO REGISTER!)
You can also send (free) loving messages of support and hope to the recipient of donations by emailing sloanstrength5k@gmail.com.
And remember: you don't have to ever actually run a 5K. It's about just being outside, with loved ones, and celebrating life.
My mom (Sloan's grandma) loved to slowly stroll along 5Ks – always coming in last, but definitely finishing happiest with the best memories, conversations, and pictures. So feel free to roll, stroll, or sprint right along with us. You know we'll be strolling with Sloan and all of her extra accessories and equipment in tow, too. Also…Make lots of stops for silly selfies. 😉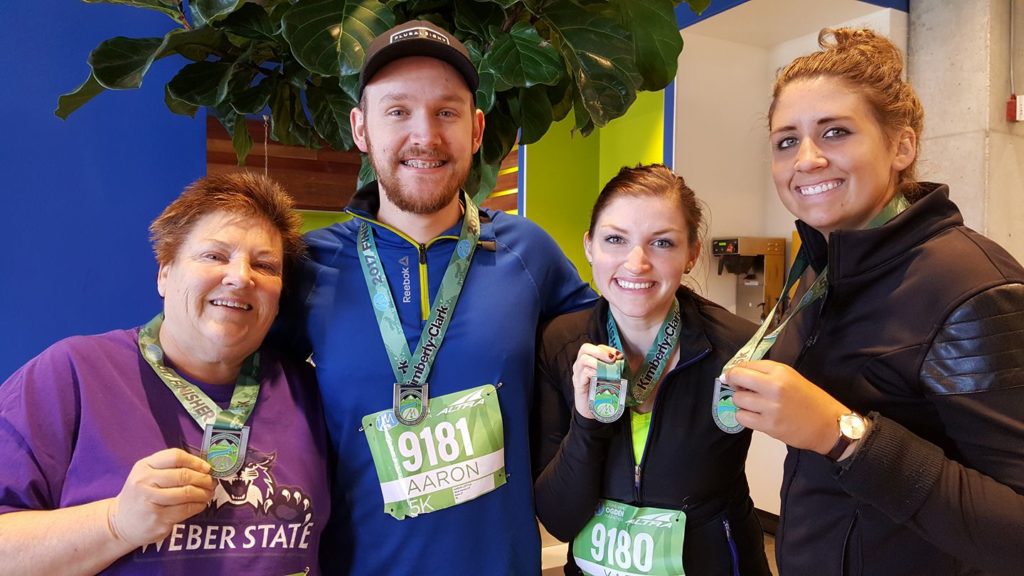 There are a few other fun things worth highlighting about the 5K:

Unicorn Theme: Sloan's birthday just so happens to land on National Unicorn Day! So every year we plan to theme the 5K around unicorns: making it a fun, bright family party. Feel free to go all-out and dress up in your most extra unicorn/glittery/party gear. You know me and Sloan are the most extra when it comes to sparkle, so we will love it.
Medals: Along with the unicorn theme, the medals will be collectible. As Sloan grows, the medals will evolve. Right now the medal is a baddie toddler unicorn: someday the medal will be a baddie adult unicorn!
Timeline: This 5K is virtual! You can roll the race anytime during the month of April. We're specifically looking at April 1 – May 1. (You DON'T have to roll this race on April 9th, it's all about you and your schedule!)
Photos: One thing is mandatory through all of this. We are FIRM believers in documenting, celebrating, being silly, and living life to the fullest. So take lots of photos, celebrate with us, and use the hashtag #sloanstrength5K or tag @sloan_strength_ so we can see your rolling/running/strolling too.
Get registered: click here to register for the 5K. You can also find the Facebook event here.
OMFG. We're already at 130+ participants!
After announcing this week, we already have 130+ 5K participants! We are SO excited and in major disbelief at the turnout already. You'll definitely want to be a part of this 5K crew: because it just might be the coolest, baddiest 5K crew ever.
We can't wait to see the fun photos and celebratory 5K parties ahead: so join in the fun with us!
BIB + MEDAL TEASERS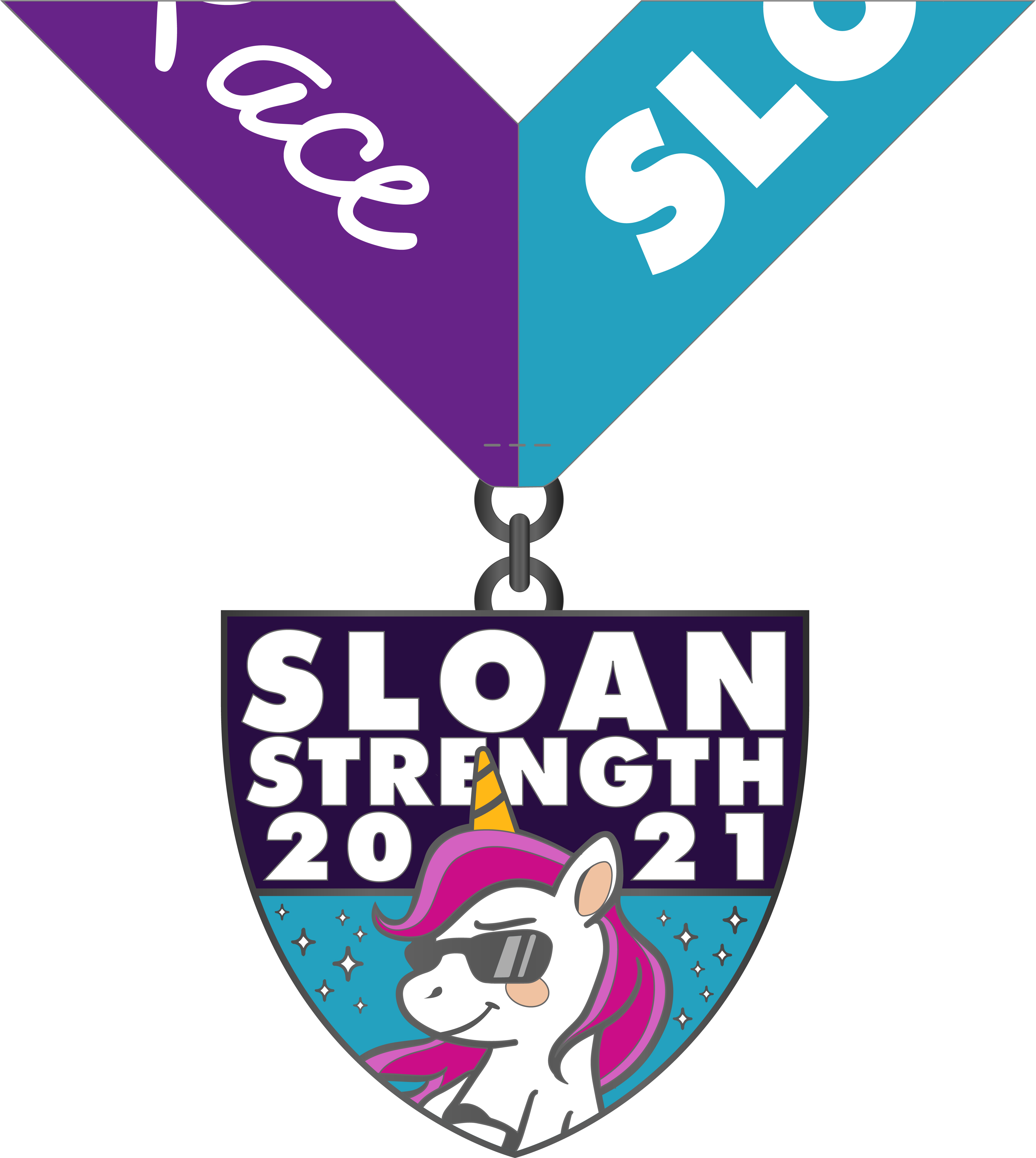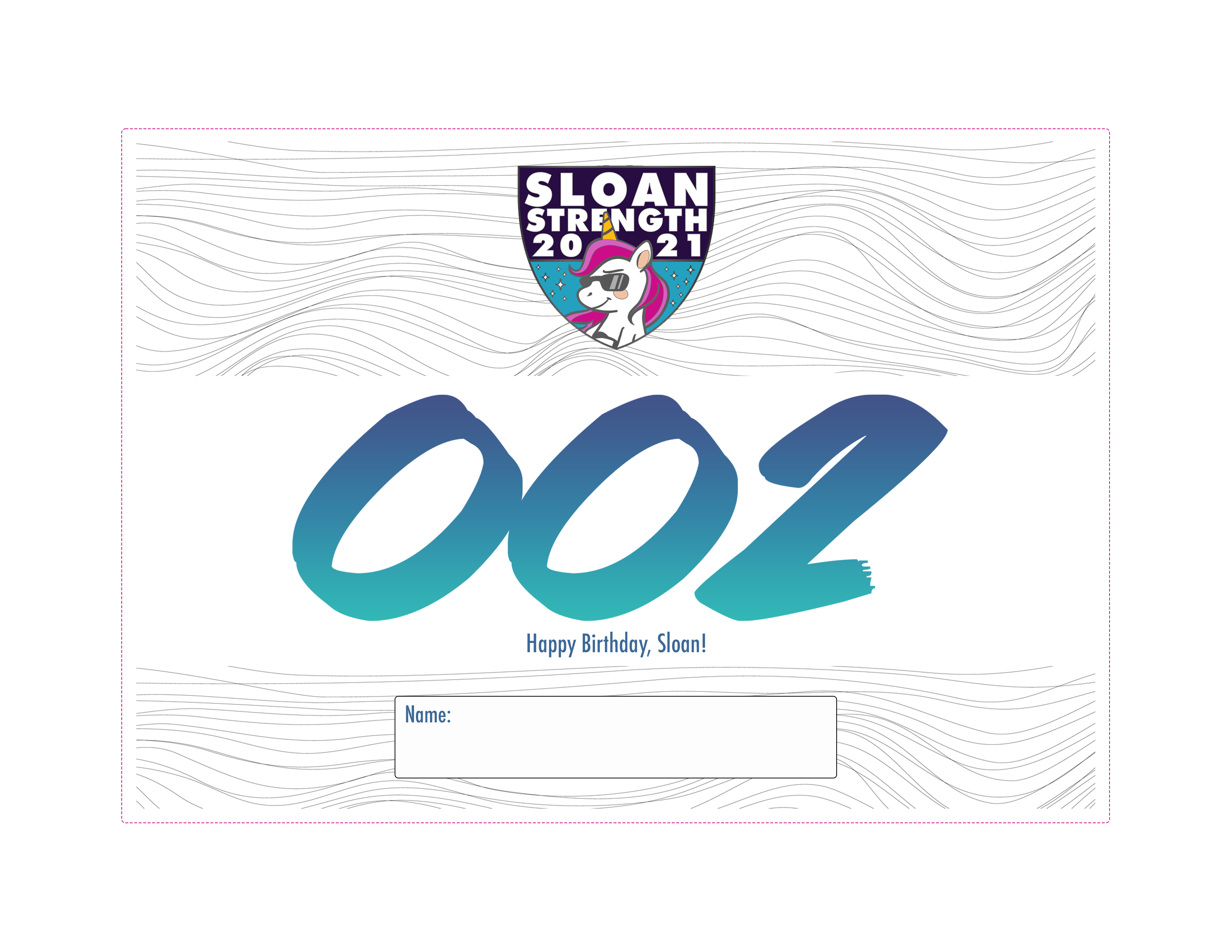 Before wrapping up this post, I want to say thank you to Mariangel and Brian who worked to make this year's event happen. Mariangel is behind the scenes hustling to get the landing pages setup, registration page running, and all of the logistics that make this 5K extra-sparkly. And Brian has been the creative mind behind all of the designs you see above. Their support has meant everything to us: and this event wouldn't be what it is without their talent, fun, and effort.
Thank you all for being you. I'm proud to have this community we call home, and feel so much hope and love as we work hard to extend that love and hope beyond ourselves every year. For Sloan's birthday, National Unicorn day, and simply to give.
Sloanie and I love you so much.
<3 – Kari